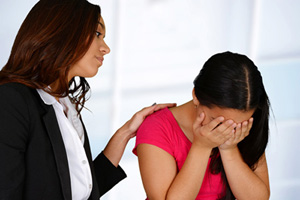 SOUND: Hear the article.
In a Texas court, oral arguments are about to take place (in early October). The argument is whether the Ford Bend school district in Texas should reimburse the parents of a young man ($115,000) for his education at a private residential facility. The parents were forced to withdraw their traumatized son from public school after a second suicide attempt. 
The school district seriously botched their job to provide a Free Appropriate Public Education (FAPE). Ford Bend school district had the chance to do the right thing. And the right thing was to educate a child who spent his first four brain-developing years in a neglectful, abusive and traumatizing Russian orphanage.  Their son came to the US with his adoptive parents at the age of 4. He spent another 8 years trying to find a foundation of safety and security with his parents.
The right thing to do for the school district was to address the individual educational needs arising from a student who was traumatized and suffered neurological damage from that trauma. Instead it passed the buck and did not provide a program that worked for this young man. After all, treating mental illness isn't their problem. Schools just need to put the books in front of this bright traumatized suicidal youth. If he doesn't take advantage of the education, well,  that's not their problem; isn't that right?  WRONG !
Texas is a state where expectations and success rates for special education students are "historically low".  Texas has the distinct honor of also being dubbed one of only 6 states that was called out by the Federal Government for its poor performance. Any parent of a child in special education knows the educational expectations within school districts are low but in Texas apparently they bottom out!
The Ford Bend (school system attorneys) apparently blame the parents or at the very least pass the buck and chalk this boy's issues up to a "not-my-problem" mentality. They don't think the effect of this boy's neglectful and abusive first 4 years should be their educational responsibility. "In court documents, Fort Bend's attorneys said the parents are asking the school to fix a problem for which it is not responsible."
"Public schools are not in the business of treating specific mental disorders," Houston attorney Jeffrey L. Rogers wrote in the district's appeal to the 5th Circuit. "They simply must provide the special education and related services necessary to permit the student to access the educational curriculum despite the disability."
OK, so let's get this straight.  Mr. Rogers is saying if a child sits before them in school daily and they can observe the child  is obviously starving,  all the district has to do is put a plate of food in front of him. It doesn't matter what food or whether he knows how to hold a fork or knife or get the food into his body. As long as there IS a plate of food, the school district is off the hook. When the child keels over, the school can say, we gave him food. Sorry he starved". If the child continues to starve, it's not a school problem because they don't "treat" starving children. That's a medical problem. REALLY?
As long as Fort Bend presents their curriculum and checks off their educational boxes,  it doesn't matter whether or not a student actually partakes of the offered curriculum. It doesn't matter that the goal is applying an education to daily life. The school doesn't need to address his basic needs or strategize for sound methods of shaping his behaviors. Keep in mind these are behaviors caused by the boy's brain based neurological issues. These are the same unaddressed issues that caused him to be unable to process, function socially or give him unfettered access (like his peers) to the curriculum. This is still a free appropriate education.  I don't think so!
Another outrageous quote states, "Public schools are not in the business of treating specific mental disorders," Houston attorney Jeffrey L. Rogers wrote in the district's appeal to the 5th Circuit. "They simply must provide the special education and related services necessary to permit the student to access the educational curriculum despite the disability."
Ah yes, and it doesn't matter  whether the student can actually "access" those services;  just that they are provided!
Mr. Rogers just doesn't get it and neither does the Fort Bend school district.  Access is a way to be able to get and USE something; like when someone in a wheelchair can access a school building by using a specially built ramp. This ramp gives the wheelchair confined individual a way into the building to access the opportunities inside. If the ramp isn't there that individual cannot even get into the building. Instead the individual can come to the steps and stare into the building but cannot access any of the educational opportunities inside the school. They can watch their peers enter and leave and look on as he feels ostracized socially and academically because he cannot figure out how to join in with his peers in the school. Or maybe he decides he will end it all because he is so ashamed and guilt-ridden because he they cannot get in and it must be his fault. He might try numbing the pain of his isolation through the use of drugs and pain killers.These kids need a specially built ramp to give them equal "educational" access. They need adults to provide a safe foundation that their early beginnings did not. They need a trauma informed education.
Access for students with early trauma or Developmental Trauma Disorder means the schools MUST understand the barriers to education these students experience. Schools cannot educate traumatized children (and there are many) unless they understand the changes in the brain caused by early abuse, neglect and abandonment. This is a problem of executive function  that becomes a school's problem if they truly are going to provide individual and needed services to students. Addressing these issues means training the district personnel and supporting the family. It means taking the time to figure out what the individual needs and then coming up with a plan. It isn't passing the buck and saying "Oh well, not our problem. We don't treat mental illness." Some of the answers are found by becoming a trauma-informed educational system.
In all likelihood his early trauma history is probably more appropriately defined as Developmental Trauma Disorder (DTD). If treated inappropriately, DTD gets worse not better. There are few if any school districts that understand what is necessary in getting these children true access to the curriculum.  Often these kids are misdiagnosed with ADHD or other alphabet soup type acronyms. It's not necessary to treat the disability but instead understand how that disability affects the child's access to his education.
Pretty much the only place we agree with the district is that schools don't treat mental health issues and thank goodness for that. But schools by law DO have to develop Individual Educational Programs (or IEP's) based on the "individual needs" of the eligible student. A good IEP is only the first step. After parents get a good IEP (and that is never easy) then the school has to follow it which often doesn't happen.
More Child Trauma Resources: