​Back to School During a Pandemic: What you should consider.
Submitted by
INCIID
on Thursday, August 13, 2020 - 00:00.
Should I send my child to school: What you should consider.
For more than a decade, I was a resource and self-contained special education teacher in Fairfax County Public Schools (FCPS), one of the largest school systems in the United States. One of my two children is currently enrolled in the FCPS system.
The FCPS system includes a diverse group of students speaking 182 different languages and dialects in the home. Of the approximate 187,800 students, 90% general education, 37% English Language Learners, and about 15% special education needs. 
The sheer size of Fairfax County and the transportation complications of bussing thousands of students just adds to the complexity of sending students back to school
Large or small, there are multiple things to think about including the physical and emotional cost to your family in making the decision on whether or not to send your child/ren back into school buildings that may not have the resources to keep children safe.
Risk vs. Benefit: Consider the Brain's Executive Function
We all know how crucial education and social interaction are to learning and we all want kids back in school. But that transition must include health and safety preparation as a premium and highest priority.
We often hear about the adaptability and resilience of children. What we aren't hearing about is their executive function; something to seriously consider in making the decision to re-open schools. Executive function (EF) takes place in the prefrontal regions of the frontal lobe of the brain. Executive function helps us figure out how to handle situations, particularly new situations.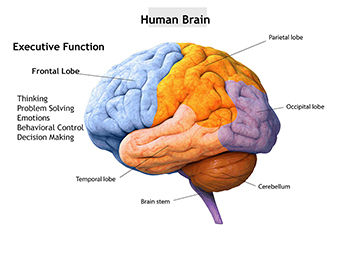 EF incorporates a variety of skills including the ability to focus attention on issues or obstacles in order to make good choices. It also involves learning from mistakes and planning for the future.  Fully developed EF in adults involves successfully wading through complex emotions, situations and regulating behaviors.
These are all characteristics necessary to navigate this new normal we are experiencing during the COVID-19 crisis and pandemic.  Mistakes are part of any learning process but a mistake made in the age of COVID may be lethal. Here's the real "kicker"!
Children do NOT fully develop executive function until the age of 25. Keep this in mind when making the decision to send children back into school buildings. Here's why executive function is so important to development.
Teenagers and Executive Function (EF): Engaging in risky behaviors
Let's take a look at teens. Teen years can be tempestuous, and unsettled as they navigate puberty and young adulthood. Because EF doesn't fully develop until age 25, teenagers are naturally and normally prone to impulsivity, lacking in the ability to consider consequences of their actions. It's just part of their development.
This lack of fully developed EF makes teens vulnerable to their emotions and unable to plan or to see the "big picture" particularly with a novel or complex scenario such as a pandemic. It also makes them likely candidates to engage in risk-oriented behaviors. Teens may have mood swings, lack of focus, and preoccupation with their appearance – Their focus is not on complex health and safety issues.
For example, although teens recognize that talking and texting while driving is dangerous, they still engage in these behaviors. Why? Their executive function is operational but not fully developed. According to the Children's Hospital of Philadelphia, in 2017 close to 40% of teen drivers reported engaging in texting or emailing during the past month of the survey.
Teens and Social Distancing
Expecting teens to social distance once back in schools is a recipe for disaster. Even if the school system could stagger desks 6 feet apart (doubling the system's space requirements), once the bell rings, do you really think they won't embrace their friends in the hallways during the change of classes? Do you really think they will keep their masks on when they gather to take selfies and share digital interaction or they hug each other in the halls?
If you do, I would bet you haven't been to a high school for any length of time since you graduated!
  COVID-19 and Spread of the Virus
Previously, the virus was thought to spread mainly through droplets. On July 9th, 2020 the World Health Organization (WHO) admitted the coronavirus has the potential to spread through the air under certain conditions. At present, this finding has not been incorporated into any formal guidance as far as opening schools or businesses. Keep that finding in mind when weighing the risks of sending your child back to school and into classrooms without windows or with poor ventilation.
When an infected person breathes, talks, coughs, sneezes, or sings, they send tiny particles into the air traveling a much as 16 feet.  Some of the smaller particles may float for hours.
This past week more than 200 scientists published an open letter to the WHO warning about airborne transmission via aerosols. Unlike droplets that quickly fall to the ground, aerosols can suspend in the air for hours. These smaller particles are also more efficient at penetrating the pulmonary system and pose much more infection risk.
Any human in close proximity to another human can spread the virus. To me the logic would say, children spread the virus to each other, and their families just as easily as anyone else spreads a respiratory virus.  Remember that up to now schools and gatherings have been closed. Children have been sheltered. To me, the scenario where children return to schools has never been tested as far as the spread. We just do not know. Sending your child back to school under these circumstances is making them a test case.
When Betsy DeVos, Secretary of Education tells us, that children are not likely to spread the virus, I wonder where she is getting her information.  Children have been sheltered meaning there has not been a chance for them to spread the virus. When schools open, children become the test cases in close quarters with other children who cough, sneeze, breathe, sing, or talk. Parents should be aware children returning to buildings become the test cases for whether children become vectors of the spread of the virus.
Schools often have antiquated ventilation systems and classrooms that have no windows.  Will schools retrofit their air conditioning heating systems to install air filters like those installed in hospital surgical suites to clean the air and lower the infection rate? A CNN article on July 12, 2020, stated,
"In Fairfax County, teachers too will be required to wear masks, even in the front of the classroom, and students who come to school without a mask will have temperature checks." 
What's wrong with this picture. Temperature checks should not replace wearing a mask. Some people are asymptomatic. Many who have contracted the virus do not have symptoms until some days later when they have already spread it. I greatly admire the work FCPS does but they are not equipped at the time of writing this to open schools so both staff and students are safe.
Hong Kong Disney just closed due to 173 new cases.  The city of Hong Kong has a population of 7 million people. Compare that to the Disney location in Orlando, Florida, population about 2 million with the Orlando cases of COVID-19 topping out at over 15,000 as of July 12th.
The health experts such as Dr. Anthony Fauci (left) tell us what we need to do contemporaneously:
Testing, testing, and more testing
Contract tracing (Widespread)
Social distancing
Wearing a mask
In Fairfax county, if you do not have symptoms, you cannot get a COVID-19 test.  Testing and contact tracing together are how clusters of the infected are found so they can be isolated and treated. Pervasive and widespread testing should have started months ago.
Listen to health experts and weigh what they say based on science. Read the resource articles. At this point in time, adequate testing or a national testing strategy in most places is not available. In Fairfax County, anyone who wants a test CANNOT get a test even with potential exposure to someone who tested positive. Testing and immediate reliable feedback on results are mandatory to curtail the virus. At the same time, we must be contact tracing, isolating, and social distancing.
Only through persistent widespread testing and contact tracing will communities be able to isolate virus clusters. Right now, the necessary far-reaching testing is not happening and until it does, opening schools put children and staff at risk of illness, followed by long term recovery and long-term effects or worse, death.
Cautious Warning About Children as Vectors for Spread
Most of the reporting observed has proposed that children do not spread the virus. So, I will leave you with this final thought. Schools have been closed since March. Most of the new information coming out about spread is within the recent month.
Researchers cannot tell us if the spread by children is less likely – they cannot know because for the past 4 months schools have been closed and most children continue to be sheltered.  
What happens when children mix with others such as summer camp? Here's a test case to ponder.  Two recent outbreaks at summer camps. Kanakuk camp in Missouri had 82 campers and counselors infected and another two YMCA camps in Georgia reported 85 infected. There are numerous other camps that are in operation where children are being infected. This suggests to me that school outbreaks are inevitable.  
Think carefully, use logic, and listen to the health experts before you send your child back to unprepared environments in places where the COVID-19 infection rate is on the rise and not flattened. The infection rate should be BELOW 5% to open schools.
Before you send your child into the school system, ask some pointed questions. We now know that the virus has an aerosol component that can and does infect others.
Ask about ventilation and how the air will or won't be filtered.
Ask how they intend to deal with rooms that have carpet. Carpets are viral and bacterial breeding grounds. 
Ask how the computer equipment and other electronics are being disinfected.
There are many unknowns. Sometimes we have to wait for the things that we might want now. 
Consider the Science: COVID-19 Resources
UCSF Magazine (Summer 2020): "We thought it was just a respiratory virus. We were wrong" 

New York Times (June 12, 2020): The Science, the Air, and the Virus

 

'); //--><!]]>